Upcoming Events
Would you like to book a program?
Just call or fill out the talk-to-us form here.
COVID-19 Update: Out of consideration for both performer and attendees, Peter is scheduling events held in outdoor settings. Peter has also adapted his programs to a new, on-line Zoom format, and he is now available for virtual concerts and virtual classroom visits. 

Note: If the below list of events isn't visible in your browser or seems out-of-date, you can find events on Peter's FB events page. https://www.facebook.com/pg/PeterApelMusic/events  Many of Peter's programs are at private schools or events, so they will not be listed below.  For announcements of public events, be sure to check Peter's Facebook page  or sign up for Peter's free newsletter. 
About Peter Apel's Events
If you would like to have Peter Apel perform at your library, school event, fundraiser, or other special occasion, please contact Peter directly at
www.PeterApel.com
or call:

As a singer/songwriter, author/illustrator and magician, Peter presents special programs for libraries, preschools, elementary schools, fundraisers, and other events. Each performance can be tailored to the age and theme of the program as well as the size of the venue, and each performance includes Peter's special blend of music, magic, and humor delivered with unique care and respect for the kids. In all cases, there is a little something to learn, and you'll experience the magic that results when enthusiastic young voices join in laughter and song.
Preschool and K-2 Visits and Assemblies:
Peter's fun and educational songs and programs are perfectly suited for young children. Give your kids a treat by arranging a special performance for your library or school.  Group size can range from single-classrooms of just 10 children up to assemblies with several hundred.   Peter loves working with you to select or design the program that works best for you an your kids.
Library Programs: 
With Peter's unique ability to leverage music and magic in his programs, he has successfully created engaging, original programs for many libraries.  The most requested programs are his "I've Got a Dinosaur on My Head!" show and "Music, Magic, and Fun."  Other popular themes cover Olympics, Outer space, Food and Nutrition, Family & Friends, etc.  Peter's original presentation will ensure the children and families leave with a smile.  
Shopping Center Family Programs:
A Peter Apel performance is a great choice for your next parent/toddler and family program.  Whether you're looking for an intimate, relaxing music experience, a higher-energy music and movement concert, or a variety show with music, magic and more, give Peter a call.  As a singer-songwriter, magician, author and illustrator, Peter has a wide range of tools and talents to choose from. He'll carefully listen to your needs and will bring just the right program and attitude for your event. 
For best dates and times, please contact Peter directly (see contact info above).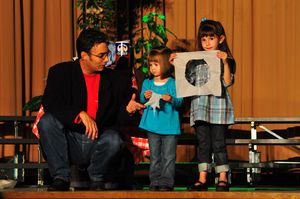 Two young volunteers helping Peter in an elementary school assembly.
Would you like to receive our newsletter?