Quotes and Testimonials

 
I am retired pediatric nurse and great grandma to two special autistic boys. I just listened to Dinosaur on my Head and love it so much for the happy songs. I can't wait to share it! Thank you!!
 - Nana Marie, Walla Walla, Wa
"We saw <Peter> in Santa Clara....My daughter, husband and I truly enjoy listening to Peter's songs. He is very talented and funny!"
 - M.Y. in Santa Clara
"...the
Fred Pinsocket
Alien Space Dude is kind of cool." (
more...
)
 - Music Review: KIDS FIRST!® Kid Juror
"My mother met you at a magic show and brought your "I've got a Dinosaur on my head" CD home. My son is only 15 months but he bops and steps back and forth to the songs. We love doing the Walking in a Circle song with the whole family. He loves to see everyone involved and copies us all. Great for learning! Thank you for your creativity for the kids (and also for the adults as we get a kick out of songs too). Great CD!!"
 - K.R. in San Jose
"Mis ninos estan muy contentos con Dinosaorio! Siempre vamos en el carro con su musica muy fuerte! Mi esposo canta con ellos y bandriendo de la musica. Gracias,"
- Tehelma in Colorado
"We got your CD Fred's Back as a gift over the holidays and my children love it. They know every word. Thanks, and great job, Señor.  You are very talented."
 - Dennis Ortiz, Nambe, NM
"KIDS FIRST! proudly announces a freshly endorsed collection of audio recordings - music and the spoken word - by some of the most outstanding talents in children's entertainment. With the assistance of respected music judge John Wood, we offer no hesitation in recommending these recordings by well-known recording artists such as
Peter Apel
, Bob McGrath, Tom Chapin, Phil Galdston, Marla Lewis, Beth Nielsen Chapman and more. Check them out, they are perfect little stocking stuffers or something to spend your I-tunes gift card on after Christmas."
 -
KIDS FIRST! Coalition for Quality Children's Media
"You make the lessons of childhood fun!"
- Judy Pancoast, Grammy Nominee "Best Children's Album"
(
www.judypancoast.com
)
"Peter performed for a family event at the Bay Club and my daughter at 2.5 is now singing every one of his songs on the short sample CD we received. It is 7:15am and she is in her crib singing I love bananas, I love them yum yum yum. Her favorite is Bombones. She knows the words to every song and we really enjoy the music. I think we are going to get more of the CDs and try to come to more of his concerts. He is fantastic!"
 - E. M. San Jose, CA
"I didn't think you could top your first CD, but you have!"
 - A Mom in Michigan
"This song truly captures the flavors of Northern New Mexico. It shows a real restaurant scene in New Mexico."
 - Felipe Garcia, Restaurant Owner
(refering to "I Love Sopaipillas")
We gave all our grandkids your second CD for Christmas...Our 4-year-old granddaughter sang the "I Love Sopaipillas" song to us on Skype yesterday."
  - Grandma from Ohio
"If you're looking for a great show for the younger set with a lot of heart, I can highly recommend Peter. He sings quirky original songs and does magic tricks. He charmed 150 kids and adults with his jokes, and he was great about promoting the library."
 - Maddy Walton-Hadlock, San Jose Public Library
"Our programs use children's music for warm-ups and weekly routines. We chose Peter Apel's cd because it gets the kids up and moving with smiles on thier faces."
- Leah Parker, Airborne Gymnastics, Santa Clara, CA
"Our children love when he comes to play and sing! He has a wonderful and energetic presence that is completely contagious!"
- Miss Linda, Head teacher for ages 3-5, Village Preschool of Saratoga

"Peter Apel writes catchy songs that kids immediately respond to. His show is a lot of fun and perfect for library programs!"
- Karen Chow, Half Moon Bay Youth Services Librarian
"Dear Mr. Apel, Thank you for the magic show. I loved the song, "Sometimes I Have Oatmeal for breakfast.
- Christina, age 5

"Peter Apel is this amazing singer/songwriter from New Mexico whose first CD I've Got a Dinosaur on My Head is rocking the kid world! I felt like a happy child when I saw him live. At the same time, I was awed by his authenticity combined with a polished and world-class presentation." 

Read more...


- Lynette Yetter, BlogCritics.org

"I like Fred and the big straw"
- Ethan, Age 6

Just thought I would let everyone know how much my 3-4 year old dance students love "Walking In A Circle". I teach at Dance Academy USA where we listen to many of your songs on Saturday mornings to get moving! It was a great fortune to meet you, good luck and thank you for your music!
- Claire C., Dance Instructor, Saratoga, CA

"I love oatmeal!"
- Gary, age 5

"This project came out great, I am very happy for you. I play your songs in my Kindergarten classroom and the kids really like them. They ask for them all the time. They really like "Walking in a Circle", "I love Bananas" and the Hubba Bubba line in TTLS. "
- Frances, Teacher, Albuquerque NM

"I liked your guitar because you play good. I liked your dinosaur because it was funny when you had the dinosaur on your head! I liked all your songs. "
- Carmen, age 5
"We have two boys ages 6 and 4 and we listened to the CD at least 4 times traveling to Universal Studios today!  Wow - my boys loved it! Their favorite is "I love Bananas", they both walk around acting like Fred now, they also loved "the laughing song" and the "Oatmeal" song. We are humming the songs right now."
- Gretchen, mom, California

"I love bananas!  They've got fiber and potassium!"
- Fred Pinsocket, Spaceman

"I smiled through all the songs, but the Oatmeal song made the laugh out loud."
- Peggy, CA

"Will you come another day? You are funny. "
- Bernice, age 5

"She (the mom) said she can't get the songs out of her head, and she.has all the words memorized.  When they drove in the car, the kids would request the songs by number as they already knew which number the songs corresponded to..."
- Customer talking about another customer talking about her kids - Denver, CO

"My wife and I listened to your cd on the way home and we thoroughly enjoyed
it. BRILLIANT, BRILLIANT stuff my friend!! It has the perfect blend of "fun
and music" for kids and the humor, love and sincerity adults will
appreciate. You've got a hit on your hands my friend! "
- Todd Johnson, 6 string bass artist,
www.toddjohnsonmusic.com
  

"I like your dinosaur. I like it. It is green."
- Josiah, age 5

"I liked your guitar and I liked your song. I liked the dinosaur. I liked the oatmeal song because it was funny."
- Jameson, age 5

"I just got a chance to listen to your songs today. They are so fun :-). As a teacher, I especially liked, "Walking in a Circle". It's a song that a teacher could do with the children in a circle time. I especially liked how you transitioned from one thing to the next with a "warning", like..."get ready to..."
.......Anytime we can do movement activities with kids - we'll buy the CD's. Love ya! "
- JoAlyce - Teacher, California 
[
Get your copy now
]
"Peter Apel has a lot of talent. The songs have great lyrics and make me laugh!!! It's hard to pick a favorite song ... I love them all. You can tell Peter put great thought and hard work to develop these songs. The Blue Beef Broth is brilliant. I like that it was the best soup he had all day. These songs aren't just for kids."
- Marissa, NM

"Looking forward to adding your music to the classrooms...Writing for kids is a very unselfish and admirable endeavour. "
- Quentin & Jenni

"We loved the CD. It is g-r-e-a-t!   Our favorite was "The Laughing Song." As a retired public school music teacher/band director/choral director & army bandsman, I believe your CD is good enough to be used by music teachers and grade school teachers. I hope you continue recording & sharing your talent."
- Francis & Carmie, KY

"Uncle Pete, My favorite song is the Banana Song."
- Jake

"I'm still crying about the balloons! I'll need therapy."  (about "I Once Had a Balloon...")
- Cindy, Artist, San Jose, CA

"Great job Pete! I like all of the songs but you know that "Sometimes I have Oatmeal for Breakfast" is the family favorite!"
- Sis

"Pete ~ Great work! God's given you a special gift and you're using it in a special way.....that's what it's all about! I love your lyrics and want to share them with my granddaughter, nieces and nephews... "
- Cindy N.

"Pete, I'm sitting here listening to your songs with my 10 year old son and we love them. We especially like your animal sounds!"
- Jody, CT

"These songs are addictive!"
- Mom, NM

"I actually find myself (quietly) singing the oatmeal or bananas song at times during the day at work"
A dad in California
[
Get your copy now
]
"Wow! You are very creative and silly. "
- Sue

"It's way too much fun!"
- Palo Alto, CA

"I like when you made oatmeal. Thank you. You are great."
- Anabel, age 5

"Great rhymes - putting the language to work"
- Anonymous, Silicon Valley, CA

"What a treat---you're one a very talented guy!!! ...we enjoyed your silly, toe tapping songs"
- Jo

"Great music with fun lyrics and creative sound effects... My favorite is the oatmeal song :-) ). "
- Mariann

"You are the bomb."
- Ramona, CA

"It's original kids music - not the same old, plastic, fomulaic stuff!"
- Elaine, California
|
Back to store
|
References From Satisfied Clients
Simply click on a letter to open the pdf version



Press & Blogs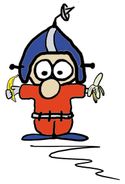 Bay Area Parent
(July 2016, June 2013)
Top Picks for Family Fun in Silicon Valley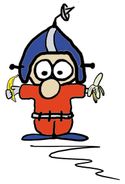 Sunnyvale Sun Article
The Magic Garage - One of Bay Area's Best Kept Secrets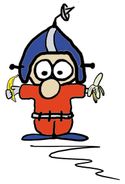 Kids Music Award Blog
2011 Best Album. Smart, witty, fun, silly, awesome!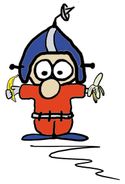 Interview by BlogCritics.org
A Conversation with Peter Apel, Children's Musician"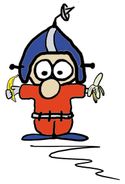 First Years of Reading, by Mandy Marksteiner
I just bought the CD, I've Got a Dinosaur on My Head, by Peter Apel, and we really like listening to it in the car...
Other Mentions Around the Web